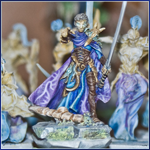 Posts: 1054
Joined: Sun Dec 08, 2013 7:40 pm

Fri May 30, 2014 11:09 am
As few as I know, the only remaining victory condition in our latest test is "elixir" owning.
Killing enemy hero provides some of them. Plus troops can't use orders without their commander.
Im happy to see that - and propably i won't be alone in that happiness

Hero are not about "company" but about faction.
If you create 2 lion companies, they can use same heroes. All heroes available for lion faction.
Not for now, but later, some neutral heroes may be added. These heroes don't belong to any faction (or, better, they belong to neutral factions), and can be used with every factions.
The adjustment screen is updated to display available heroes, and you select it just like units.
ok now i understand - especialy if you want to add mercenary heroes
but this is both commonly implenmented in battle games ...
and commonly banned from tournements quite soon after that

ign: Draconnor, Cynwall player, 23 years in computer games, 14 years in battle games, 8 years in Confrontation Universe, 4 years of making own battle games.