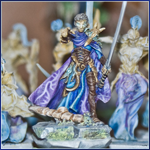 Posts: 1054
Joined: Sun Dec 08, 2013 7:40 pm

Wed Apr 09, 2014 6:48 pm
Oups, seems like we forgot to hide this.
It represents the percent of total units life remaining for each player.
For instance, if you have 4 units of 40 Hp each (160 Hp total), it will drop by ~6% for each 10Hp lost.
It's useful to check who has the upper hand.
It was added mostly for testing purposes, we will see if we make it disappear with a small patch.
i hoped that this is long waited ultimate draw solution

ign: Draconnor, Cynwall player, 23 years in computer games, 14 years in battle games, 8 years in Confrontation Universe, 4 years of making own battle games.