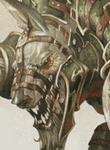 Posts: 844
Joined: Wed Nov 20, 2013 9:46 pm

Sat Apr 05, 2014 1:08 pm
Dragon_Warrior wrote:

If i would deal 14 damage (calculated with the formula you refer to) the flat damage would simply add its value to the final result...so your 14 damage (i say damage not DAM!) will get increase by +3/+6 (regardless of enemy's TOU)

you sure about that ?

all Alahan skills don't give flat bonus but normal damage table result - so sometimes +3 STR gives only +1/2 damage.
Bloodlust (which is basically scourge : all) or any other scourge-like effect does not simply add a +3 DAM to your roll but it adds 3 (stacking) to each result. This is extremely important as the grave guardian (for example) with scourge living dead can make 4 damage (1+3 from scourge) to the golem instead of making the golem suffer a DAM 10+3 - which would result in a 2.