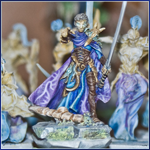 Posts: 1054
Joined: Sun Dec 08, 2013 7:40 pm

Mon Mar 31, 2014 6:13 am
Not true. For the Lion is sufficient now to have a single lvl2 archer (and which composition doesn't have at least 1 lvl2 archer? Also in the lvl5 Mage standard comp I can usually see it!) and you can kill it, since its damage is so reduced (-2DAM allows many units to survive 2 attacks from it) that you can surround it and live happily ever after just waiting for your archer to finish it without losing HP to attack it to do just 1HP DAM...
last golem i faced with two archers - at turn 10 enemy realized that his 12hp golem may not live long enough to draw and quit... but still eta of death was turn 12-13 after last non-golem unit died in turn 2.
also i dont remember when i saw mage with scourge last time and encircling unit with 16 acc and fear 20 is terrible idea actually.
ign: Draconnor, Cynwall player, 23 years in computer games, 14 years in battle games, 8 years in Confrontation Universe, 4 years of making own battle games.