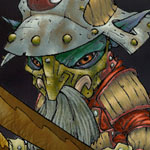 Posts: 177
Joined: Sun Feb 09, 2014 10:22 am
Location: I've been told I live in Breaking Bad territory

Mon Mar 24, 2014 5:19 pm
I am curious if anyone enjoys playing AGAINST a Flesh Golem?

I hear people trying to convince people that he's possible to kill (theoretically if you have the exact right set up and lots of luck). I hear people talk about how they just give up immediately against him (really not a good sign).

In my opinion, he is way too OP and really no fun at all to play against. I understand why people just give up. It's an uphill battle to beat him where you have to play 100% perfectly and the opponent (with the Golem) lumbers around like a retarded first grader - an usually wins. He makes you want to play like a coward and just run and play for the draw, just to stick to the person who plays him (because you don't feel like it's fair).

So, I was just curious if anyone actually enjoys facing a Flesh Golem? Not playing with (I know everyone loves this - and I understand why). Let's keep this topic to just playing against Golems. No Golem fanatics talking about how he's not OP or how he can be beat - strictly what you experience when you are playing against one.