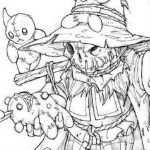 Posts: 32
Joined: Wed Mar 12, 2014 11:30 am

Sat Mar 15, 2014 3:52 pm
Hi all,
First of all, feel free to point me my mistakes as english not my main tongue.
Then, I have build I would suggest before spending points in it (and THIS IS BETA

, so let's share ideas) :
- 1 Necromancer - lvl 4 - Morbid Exp / Recovery / Wave of Death = 101 AP
- 1 Necromancer - lvl 3 - Morbid Exp / Recovery = 77 AP
- 2 Gargoyles - lvl 2 - Elusive = 59*2 = 118 AP
- 2 Archers - lvl 1 = 31*2 = 62 AP
- 1 Warrior - lvl 3 - Hard-Boiled / Quick strike = 42 AP
The point is : control the movement.
The 2 necro can cast pretty much puppets, it's used at most to block paths and, when useless, to explode in the face of lions (I hate lions). The Wave of Death is here because I discovered the huge range it have and wonder if it worths it. The necro as pretty similar as loosing one is hard, but not too bitter.
The gargoyles assure a fast covering of the map where others cant go AND, do a lot of damage as every special units. Why 2 ? because of the dissuasion it gives to the opponent. You can expect the movement of one, not 2. The problem is, they are fragile but arent puppet made for that ? surround enemys to make them go slower and letting the gargoyles take the fresh skull of alahan archers and make them snake under teeths ?
The archers are important as it is often the only solution to force some hidden humans to go out (and necros too, but they are more friendly

).
The warrior is lvl 2 to take more damages and lvl 3 because i rather be on 400 points (and it could be useful one day).
Thx for giving me some advices as I think of it interesting but too expensive to spend my ducats away.