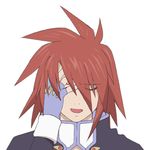 Posts: 50
Joined: Wed Feb 12, 2014 6:38 am

Sun Mar 02, 2014 6:24 am
Priest - level 5
take Inversion, Exalted, Spiritual aggression, and Conscience.

3x Skeleton Warrior - level 3
take hard boiled and martyr

2x necromancer - level 3
take Respite of the Dead and Mastery of the Arcana

Essentially, the skeleton warriors are both mid-line tanks and faith batteries. Each one spends their activation going into a defensive vantage point and giving the priest 2 faith. 3 of them using martyr causes the priest to have its maximal 6 faith, which is enough to cast spiritual aggression twice in a round. The necromancers heal the skeleton warriors and create additional barriers composed of skeletons. The spiritual aggression spell has a power of 19, which is enough to two-shot anything with 9 TOU (I think. this build is theoretical. in any case, it does tons of damage, and is assuredly at least 20 damage against an 8 TOU target, meaning the priest will almost always be blowing something up on his turn, from the other side of a wall 6 tiles away.)

Just something I've been cooking up. My main problem with levelling this build is that the priest will be almost completely useless until I can make him hit level 5. Any thoughts or possible improvements?