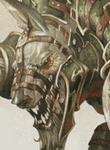 Posts: 844
Joined: Wed Nov 20, 2013 9:46 pm

Mon May 12, 2014 10:35 pm
banescuf wrote:why doesn\t anybody say anything about the predator??
What i see right now with the wolven is the following:
PoB and GG should be swapped according to the enemy you face. They cost basically the same AP and perform the same role more or less but using them only against certain factions really make them shine.
Predator of blood (PoB) weak point is fear...and guess who has a high fear ratio --> Ram! Guess who has immunity fear and scourge: living dead? --> Grave guardian! (which btw with the scourge talent will do the same damage vs ram as the PoB but will have better defensive stats and fear immunity which is a very good thing)
Grave guardian weak point is the low ACC...and guess who has a high parry rate? ---> Lion! Guess who can hit reliably and bishot those pesky lion swordsmen --> Predator of blood!
Vs other wolven in my opinion it really depends...but i would go for PoB as i can probably burst down some enemy units quicker than the GG + higher fear ratio.