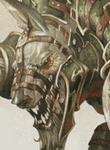 Posts: 844
Joined: Wed Nov 20, 2013 9:46 pm

Tue Mar 25, 2014 10:36 am
GardenOfSun wrote:Also I do now realise that a tiny part of the idea relies on the impression that Ylia's Love and Mortal Insolence comboed together (basically making Ylia's Love unexpirable in the turn you use Mortal Insolence, since the Guardian should "ignore" the injuries). Am I correct in this assumption?
Mortal insolence does enough without ylia's love...and i mean it can bring you from 1 HP to 40 in 1 turn.
How-to tip:
-take exalted NOT elusive (even though it looks like part of the mortal insolence tree). This means that:
1. you can cast mortal insolence reliably even when critically wounded (which is when you will use it.)
2. you can disengage 2 times from an enemy(enemies) and getting HIT reliably which is 20 HP back - if one enemy. You can then pop even offensive stance and you take another 10 Hp back...without fearing some retaliation.
so all in all, ylia's love isn't that good. Often it is a delayed 5 hp heal for 3 faith unless you can reliably escape from an enemy with your crossbowmen (mind you this often means that getting faith will be also harder if your units are scattered around)