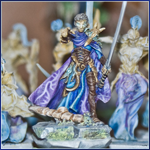 Posts: 1054
Joined: Sun Dec 08, 2013 7:40 pm

Wed Jul 16, 2014 6:12 am
Middle way is really not such great counter

you need to:

- Win strategy roll (50% with Kelrys and Emerok, less with Ryskar)
- Activate Guardian of Equilibrium first and move it in front of forces loosing an option to cast offensive miracle
- Stay no farther than 2-3 hexes from Guardian for the turn duration.

Really taking down few newbies doesn't make this great counter. Even with 3 guardians of Equilibrium in my current party i need much worse enemy to have chance to win...


The problem with Chimera is that she is far more offensive than archer hero - but still have 60 hp, high Tou and really good hth STR... while not so deadly Archer lady can be killed in one strong attack.
ign: Draconnor, Cynwall player, 23 years in computer games, 14 years in battle games, 8 years in Confrontation Universe, 4 years of making own battle games.